Underground Power Line Installation and Repair in Seattle
Master Bore, LLC provides many different underground utilities services in Seattle, including underground power line installation.
Underground power lines get rid of any aesthetically unappealing elements to your property and have been proven to be just as effective as their alternative.
Any power lines on your property should properly function and have the ability to stand the test of time, and the best way to ensure that is to choose an underground utilities contractor you can trust.
We ensure that our power line installations are as minimally intrusive as possible. We will always find ways to power up your home or business using trenchless technology that won't destroy your landscaping, parking lot or other surrounding areas of your property.
If you're looking for an experienced crew to install or repair underground power lines on your residential or commercial property, look no than Master Bore, LLC. Our goal is to leave your property looking the same way as when we arrived. You can trust our team to get the job done right the first time. Contact us today to schedule a free estimate.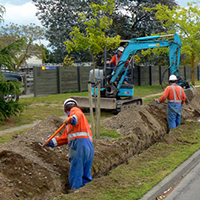 Why Underground Power Lines?
What exactly does burying power lines underground entail? Typically, it means utilizing our trenchless technology to bury any power lines into insulated conduits under your property.
Here are several benefits to underground power line installation:
They're less prone to power outages, as they're better protected against any inclement weather or other unpredictable events.

They're more aesthetically appealing for your property than a standard utility pole, as they're completely disguised and hidden underground.

They're safer, as they're less of a public safety hazard as exposed wires and cables are.

They're less faulty, as they are laid underground and have overall better insulation.

They have longer lifespans than an average overhead system — usually about 50 years.

They have fewer maintenance costs, as they have more general protection than their overhead counterparts.
If you're still on the edge of opting for underground power lines, please feel free to schedule a free estimate appointment with one of our contractors.
Let Master Bore Tackle Your Underground Power Line Work in Seattle
If you think you could benefit from putting your power lines underground, choose Master Bore, LLC to take care of the project for you.
Our contractors and installers have decades of combined experience utilizing residential and commercial trenchless technology, and we always have three of our business model priorities at top of mind: safety, integrity and teamwork.
We also provide a variety of other underground utilities services in Seattle, including trenchless sewer line repair and replacement.
Our family-owned-and-operated business is properly licensed, bonded and insured, and we'll always put our customers' satisfaction first. Don't wait any longer — choose Master Bore for your next underground utilities project and contact us today.
Call us at  (253) 245-1458 or fill out our online form for a free estimate.
¡SE HABLA ESPAÑOL!